It started with a plea from one friend to another. George Harrison had been close to the legendary Indian classical musician Ravi Shankar since the mid-'60s, when the Beatle first sought an expert to teach him to play the multi-stringed Indian sitar. Shankar, older than Harrison by some 22 years and the acknowledged world master of the instrument, was from Bangladesh (previously known as East Pakistan) in the South Asian region of Bengal.
At the time, in 1971, Harrison's website states, "The country was ravaged by floods, famine and civil war, which left 10 million people—mostly women and children—fleeing their homes." Feeling distraught and wanting to help, Shankar met with Harrison and asked if he might be able to draw attention to the crisis, and possibly use his fame to do something to raise some funds for aid. "Yes," Harrison told him, "I think I'll be able to do something."
In April of 1971, Harrison went to work recruiting friends for a one-time-only concert; by June he had already received commitments from several of the biggest names on rock. He also arranged for a film and recording to be made of the event, the proceeds of which would go toward the cause. The concert date was set for August 1, 1971, two shows (afternoon and evening) to take place at New York's Madison Square Garden. Not only would The Concert for Bangladesh be Harrison's first major live appearance since the Beatles quit touring five years earlier, it would go down as one of the greatest evenings of classic rock in history.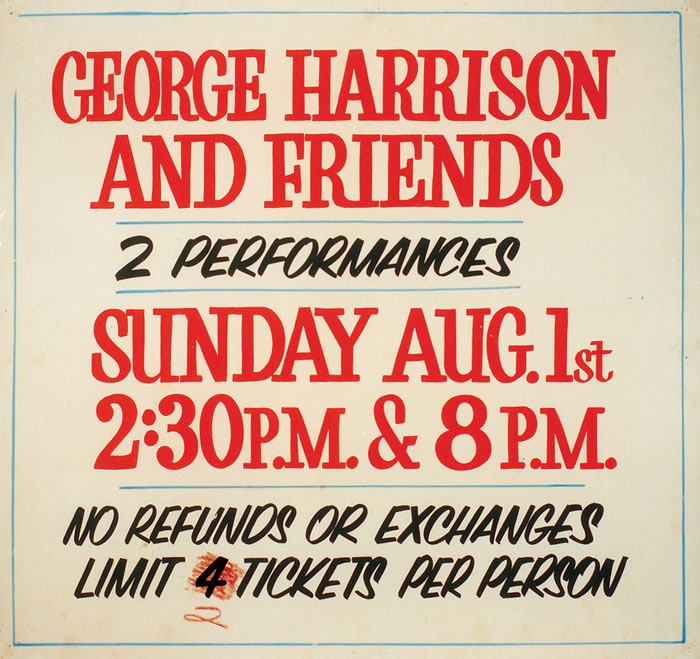 The lineup was staggering: First, there was Ringo Starr. As if half of the Beatles wasn't enough of an enticement to fans, Harrison brought in his good friend Eric Clapton, keyboardists Leon Russell and Billy Preston, bassist Klaus Voorman (an old friend from the Beatles' Hamburg days), Jim Keltner doubling up with Ringo on drums, and a host of others.
The shows began with sets by Shankar and his musicians, followed by Harrison and his entourage, performing material both from his emerging solo career ("My Sweet Lord," "Wah-Wah") and the Beatles' catalog ("While My Guitar Gently Weeps," "Something"), as well as showcase tunes from Starr ("It Don't Come Easy"), Russell and Preston. Harrison then brought the house down with "Here Comes the Sun," his acoustic Beatles classic.
But the moment that put the Concert for Bangladesh over the top as one for the ages was when Bob Dylan walked out onstage. Like Harrison, he had not performed in public much recently, since a 1966 motorcycle accident that caused him to reassess his life and career. Dylan, who was reportedly nervous about playing to such a large audience, arrived onstage for the first show accompanied by Harrison, Russell (on bass) and Starr (playing tambourine) and performed five of his greatest compositions: "A Hard Rain's A-Gonna Fall," "Blowin' in the Wind," "It Takes a Lot to Laugh, It Takes a Train to Cry," "Love Minus Zero/No Limit" and "Just Like a Woman," before Harrison and the band closed out the show. The evening show followed a similar trajectory, with both Harrison and Dylan making a handful of changes to their set lists: Dylan, notably, added "Mr. Tambourine Man" in place of "Love Minus Zero."
The Concert for Bangladesh, featuring highlights from the two shows, was released at the end of 1971 and rose to #2 on the Billboard album chart, also winning the Grammy for Album of the Year. The film was also a favorite among fans.
Following the Bangladesh concerts, some controversy ensued over the allocation of the funds but an estimated $12 million ultimately found its way to aid in the relief efforts over the next decade and a half. And in the world of rock music, the 1971 Concert for Bangladesh is viewed as a landmark event, the first true large-scale benefit concert of its type; it would serve as the model for Live Aid and is seen as the prototype for many other such charitable events even today.