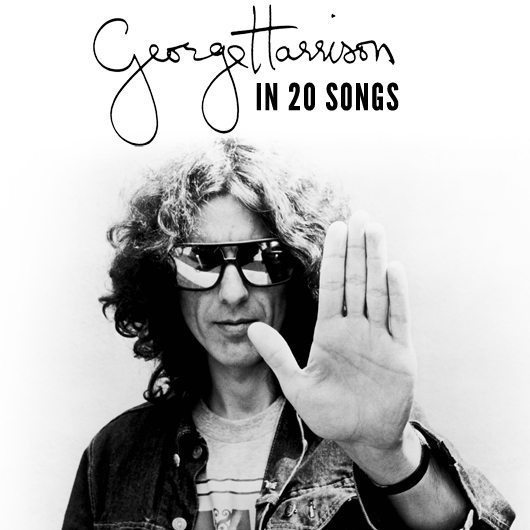 George's solo career in just 20 songs: This is like a musical autobiography, one in which we pick songs that cover the arc of George's solo career. It is not just his hits, but obviously some of them are here, it's also hidden gems and some slightly unusual choices.
For much of his time with The Beatles, George was dubbed, 'The Quiet One'. Given the prolific song writing of Paul and John, he had limited opportunities to have his songs included on the Fab Four's albums…of course, when they were they were invariably musical pearls.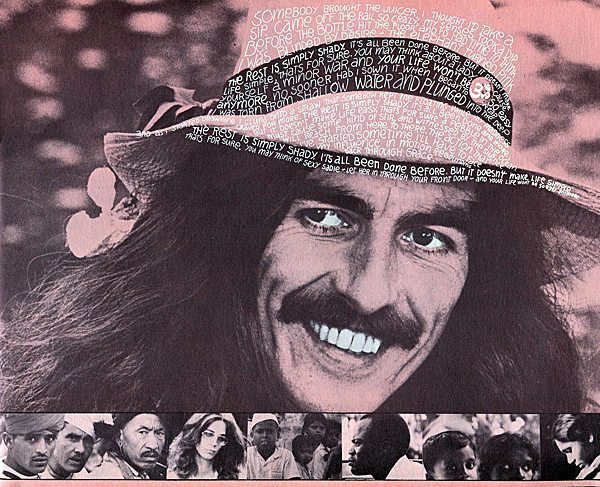 With the break up of the Beatles in 1970, George had a wealth of songs ready and waiting for inclusion on his first post Beatles album, and what an album it was. All Things Must Pass is truly one of the landmark records from the rock era. With a cast of fine musicians, from Eric Clapton and the future Dominos to Badfinger and Ringo Starr, the songs that George included in the record are classics one and all.
The best known is naturally, 'My Sweet Lord', a single that has the distinction of being the first No.1 record in both the UK and US to be released by a former Beatle, as well as being the UK's biggest-selling 45rpm disc of 1971. George wrote the song, but did you know that he was not the first to record it? He originally gave it to Billy Preston, who included it on his September 1970 album, Encouraging Words, which George also produced.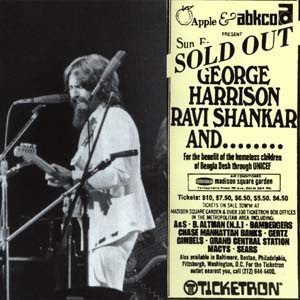 ATMP's opening track is, 'I'd Have You Anytime', a song written by George and Bob Dylan. It's a beauty and its true beauty is even more apparent on the alternate version that was released on 2012's Early Takes. On this it is devoid of Phil Spector's production, which allows the purity of the song to shine through. It's Dylan's words on the song's bridge, "All I have is yours, All you see is mine, And I'm glad to hold you in my arms, I'd have you anytime." Exquisite!
Another outstanding song from ATMP is the thoughtful, 'What Is Life' – the kind of question you would expect George to be asking. It was a huge hit around the world, but strangely it was not issued as a single in the UK. Inexplicable as it has one of George's great choruses, and it is so uplifting.
George's concern for the millions of innocent victims of the war in the country formerly known as East Pakistan encouraged him to write "Bangla Desh' and it was released as a single in late July 1971. On 1 August George gathered his friends around him, including Ravi Shankar, Ringo, Dylan, Eric Clapton and Leon Russell for the Concert For Bangla Desh. It proved to be both ground breaking and memorable.
George's 'Give Me Love (Give My Peace On Earth)' is taken from, Living In A Material World and lyrically it is like a coda to 'Bangla Desh'. It also became his second single to top the American charts. Having shared production duties with Phil Spector on both ATMP and the Concert For Bangla Desh, George took over the producer's role and he manages to retain the best of Spector with a clarity that is ever present on this superb record.
The album, Dark Horse, chronicles a period of personal and professional upheaval in George's life. It boasts a cast of top session men – including Jim Keltner, Willie Weeks, Tom Scott and Andy Newmark among them – ensuring a slick sound that epitomises the LA scene of 1973/74 as can be heard on the ironically entitled, 'Dark Horse'.
George began working on his next album in April 1975. Released in September of that year, Extra Texture (Read All About It), this is George's "soul record", in that he both bares his soul and takes a more soulful approach to his music.
There is arguably no song more beautiful on the album than 'The Answer's At The End', inspired by George's home at Friar Park. Built on the site of a 13th Century firary, The Victorian Gothic mansion, in Henley-on-Thames, Oxfordshire, was built in the 1890s by Frank Crisp, a London solicitor and enthusiast for microscopes. Both the house's interior design and the gardens reflected Crisp's love of whimsy and eccentricity; it was above an entrance-way in a garden wall that George found the inscription, "Scan not a friend with a microscopic glass. You know his faults, now let his foibles pass. Life is one long enigma, my friend. So read on, read on, the answer's at the end."
It's one thing to find such an inspirational text (one that George apparently was mindful of during some of the difficult times he experienced while The Beatles were breaking up), but it's quite another to be able to put it to such a lovely melody. 'The Answer's At The End' benefits greatly from a lovely David Foster string arrangement, but most of all from George's brilliant piano playing. It's hands-down a contender for George's greatest, most overlooked, recording.
And that's not all… Extra Texture, George's final album for Apple Records, also includes the fabulous 'This Guitar (Can't Keep From Crying)' The album is a grower: one that has stood the test of time far better than many of George's contemporaries' offerings from the middle years of that strange decade.
For his seventh solo long-player, one that came out a year later, in November 1976, George continues to embrace his soulful side and his love of Smokey Robinson's music in particular. Thirty Three & 1/3 was released on Harrison's newly formed Dark Horse Records, and despite George being ill with hepatitis during its making, it's proved to be an enduring record, full of great songs.
Reviewing the album, Billboard said, "[It's] a sunny, upbeat album of love songs and cheerful jokes that is [George's] happiest and most commercial package, with least high-flown postures, for perhaps his entire solo career." It's impossible to disagree, particularly for the inclusion of another of George's hidden gems, the delicate and beautiful tribute to a Motown legend, 'Pure Smokey', which features two of George's most lovely guitar solos.
Two and a half years later, the self-titled George Harrison, became his second Dark Horse release. Recorded following George's marriage to Olivia, it's a pure reflection of their love, opening with the heartfelt 'Love Comes To Everyone', and includes another song about his new-found bliss, 'Dark Sweet Lady'.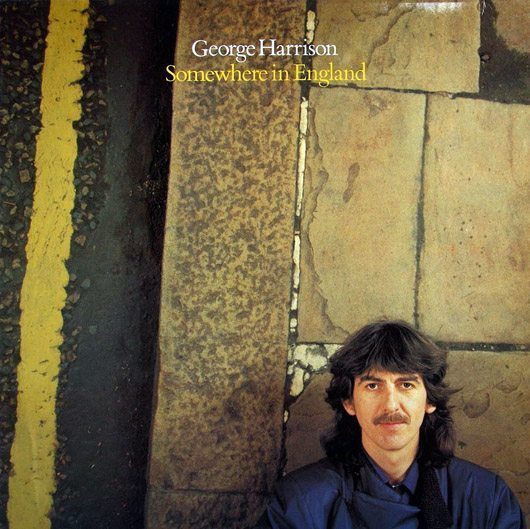 In 1981, George released Somewhere In England, his first album in two years and his first new music since the tragic death of John Lennon. It included one of Harrison's biggest hit singles, 'All Those Years Ago', a tribute to Lennon that featured Ringo Starr on drums, as well as Paul and Linda McCartney and Denny Laine on backing vocals. We've picked another of George's hidden gems from this album, the lyrical, and philosophical, 'Writing's On The Wall'.
A little over a year later, Gone Troppo emerged as George's 10th studio album, and his last under contract with Warner Bros. As an album it arguably suffers from the musical mood pervading the early 80s, and interference from his then record label. It includes, 'Unknown Delight' – that is just one of the songs on the album that proves that a record company can't keep a great songwriter down.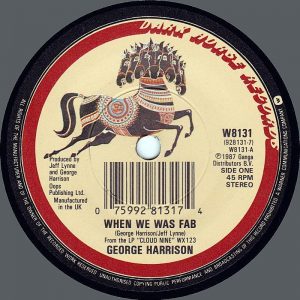 It would be five years before George put out another solo album and, when he did, it was a serious return to form. Cloud Nine includes 'Got My Mind Set On You', a song not written by Harrison (it was originally released by James Ray, in 1963), but one that he wholly makes his own; it became his third No.1 single. The parent album was co-produced with ELO's Jeff Lynne, who also co-wrote three of the tracks, including, 'When We Was Fab', another hit single and another hark back to George's Beatles' days.
In 1991, George went on the road with a band that included Eric Clapton, Andy Fairweather Low, Nathan East, Greg Phillanganes and Chuck Leavell, and the resulting live double-album, Live In Japan, is a journey through George's Beatles career and his solo catalogue. It serves as a fulsome reminder of what a great songwriter George Harrison is, was, and always will be. We've picked two of
George's Beatles' classics, 'Something' and 'While My Guitar Gently Weeps' on which Eric reprises his classic solo.
George's final studio album, his twelfth, was released in 2002, a year after he tragically passed away. We decided on, 'Marwa Blues', for one simple reason, it is the perfect homage to George's exceptional guitar playing. Shortly before he passed away George contributed a guitar solo to Bill Wyman's cover of Ketty Lester's 'Love Letters' for a Rhythm Kings album. When he sent his solo back to the former Rolling Stone he said in a tongue in cheek note, "It's my one note solo" – but George plays that sweet note better than anyone, as he proves on 'Marwa Blues'
Where to finish? Where it all began for George's solo career and 'My Sweet Lord'. This is the version from the January 2001 reissue of All Things Must Pass. Harrison included a new version of the song as 'My Sweet Lord (2000)'and it features George sharing vocals with Sam Brown, daughter of his friend Joe Brown, and acoustic guitar by his son Dhani. George's bottleneck solo is exquisite.